Sri Lanka – Maldives Business Council (SLMLBC) of The Ceylon Chamber of Commerce held its 12th Annual General Meeting (AGM) on Thursday, 20th August 2020 online via MS Teams and the Hon. President Mohamed Nasheed, Speaker of Majlis, Republic of Maldives graced the event as the chief guest.
The outgoing President Devinda Lorensuhewa stated the council has been very successful over the past years and as a result many Sri Lankan companies export their products and services to Maldives and Maldivian companies do market their products in Sri Lanka. The Council had planned several events to further develop trade between the two countries during year 2019/20. However, these events could not be carried out due the pandemic situation which has affected the world. He further stated that one of the main concerns the Sri Lankan Business community have is the current procedure of obtaining business visa to enter Maldives. Often this procedure is deterring them from frequent travels to Maldives for sudden business requirements despite the flying time from between the countries being just over one hour. The Council has communicated this issue to the Maldives High Commissioner in Sri Lanka and requested Business Visas with a longer validity period (of up to 2 years). for members of the Sri Lanka Maldives Business Council.
Hon. President Mohamed Nasheed, Speaker of the Majlis of Republic of Maldives congratulated the newly appointed executive committee, in his speech he stated that "The Maldives opened our borders two months after its closure. Even though the tourist arrivals are little we are confident that this will increase in future. We are very happy that a number of tourist resorts have opened, and the staff have been able to come out and start their working lives again. Tourism is not the only trade between our country, Sri Lanka and Maldives have been trading fish for many years. The quality of Sri Lanka's construction material is of high quality and the construction industry is growing. There are many opportunities for Sri Lanka's business community in this trade. The Maldives' business community can sell their products also in Sri Lanka and there is no doubt that this trade will continue to flourish."
He addressed the business visa issue, and mentioned it is in currently in the parliament and he is very confident that it will be sorted in a favourable manner. He also stated the countries are in collaboration to issue resident visas and long term business visas to Sri Lankans and that these matters will be resolved by the Departments of Immigration and the Ministries of Foreign Affairs in both countries quickly.
Shenali Panabokke of Eastern & Allied Agencies (Pvt) Ltd. was elected as the President of the Sri Lanka – Maldives Business Council for the period 2020-2021. Priyantha Kolonnage of Pyramid Wilmar (Pvt.) Ltd. and Ikram Gazali of CMA CGM Lanka elected Vice Presidents. Devinda Lorensuhewa of Kalani Cables PLC will be serving the Committee as Immediate Past President while Sudesh Mendis, Ocean Trade and Logistics (Pvt) Ltd. will serve as Treasurer.
Officials from Aitken Spence Travels (Pvt) Limited, CDC Events and Travels (Pvt Ltd,) E B Creasy and Company PLC, Hong Kong and Shanghai Banking Cooperation, Freight Links International (Pvt) Ltd, Marine Transport Services (Pvt) Ltd, Malship Ceylon Ltd, Nestle Lanka PLC, and Sanken Overseas (Pvt) Ltd will serve as committee membe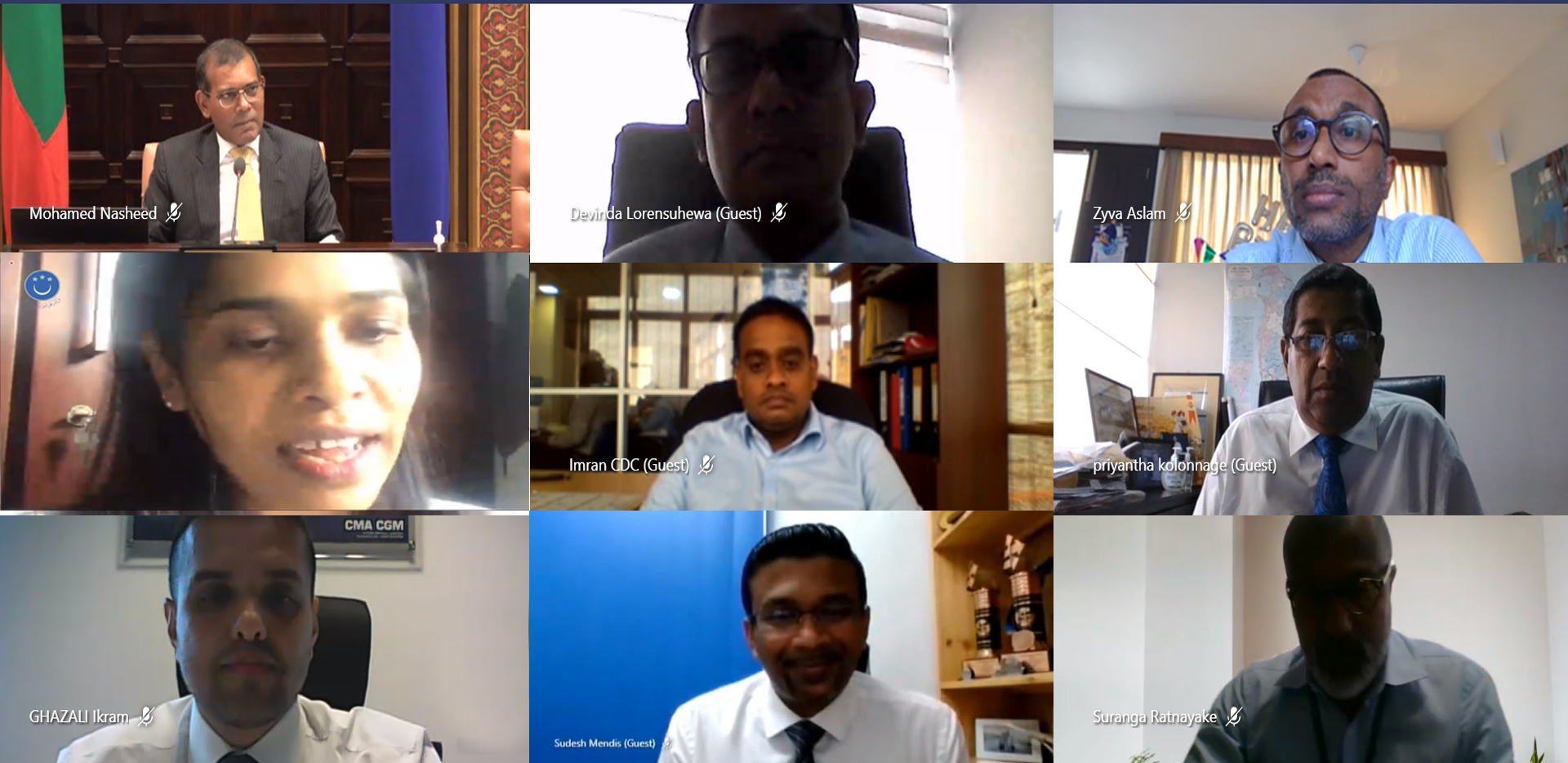 rs.